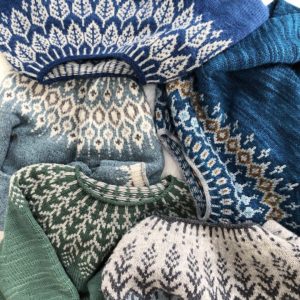 Jennifer Steingass aka Knit.Love .Wool. Saturday & Sunday May 4 & 5 2019…
Sign Ups This Wednesday February 13,2019
Saturday May 4,2019
Top down Arboreal sweater workshop: (12 Students Maxium)
In this workshop we'll knit a top-down yoke sweater swatch in the round. We'll be following the Arboreal yoke chart, a fun and easy colorwork sweater pattern that many people with no prior colorwork experience have successfully knit. You'll practice two-color stranded knitting and go over tips and tricks for choosing colors. We'll cover techniques for knitting two color stranded colorwork, learn about different yoke sweater construction types, choosing the right size, positive ease, the role of short rows, and body shaping styles. You'll learn how to follow a colorwork chart while you shape your yoke swatches using a fun invisible increase.
Required techniques – Cast on, knit, purl, knit in the round. NO prior experience with colorwork necessary.
Tools and materials needed: size 5 and 6 knitting needles for your preferred method of small circumference knitting (DPNS and/or 32" long circular needles for magic loop). $115.00 4 hour workshop 1hr Lunch Break (No Refunds or Store Credit, no Exceptions).
Sunday May 5,2019
Easy Stranded colorwork: (12 students maximum) In this workshop we'll practice 2 color stranded knitting while knitting a swatch in the round. We'll cover following a chart, tensioning floats, color dominance, and choosing colors. We'll knit an easy colorwork chart that's well suited to beginners. If you've been wanting to try stranded colorwork but have been hesitant to do so, this class will help you get over those fears. It's easier than you think!
Technique requirements: Cast on, Bind off, Knit, Purl, knit in the round, no stranded colorwork experience necessary.
Tools and materials needed: size 5 and 6 knitting needles for your preferred method of small circumference knitting (DPNS and/or 32" long circular needles for magic loop). (If students need to provide yarn: DK or sport weight wool yarn, one dark and one light color.
$100.00 3 hour workshop (No Refunds, no Store Credit and no Exceptions)