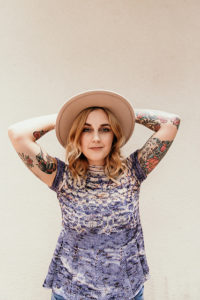 Born & Raised Saturday & Sunday
January 19 & 20,2019
Tri-Color Stranded Knitting & Other Fair Isle Knitting Saturday
January 19,2019.
4 Hour Class
Class Cost $95.00
10:00am-2:00pm
Master the two-handed method and conquer all of the stranded knitting patterns on your project
list! This workshop covers all the basics of fair isle knitting, including demonstrating one hand and
two handed methods of stranded knitting in the round as well as tension control while knitting
with three colors in one row. This workshop includes the cost of the Xtina Crop pattern and will
use this tri-color, yoke-based design as a guide for colorwork knitting.
You will need the following supplies:
Three colors of worsted weight or dk yarn:
.190 yds of MC
.130 yds of CC1
.130 yds of CC2
.US 8 circular needle with a 32 inch cord
.Darning needle
.Stitch Markers
We will cast on and knit up the first round of colorwork in class.
Design Your Own Yoke : Introduction to Patterning
Sunday January 20,2019
5 Hour Class
Class Cost $110.00
10:00am-3:00pm
Love stranded knitting? Love top-down sweaters? Combine your loves into a beautifully designed garment made just for you! Learn the ins and outs of designing a yoke-based garment
including mastering the steps from gauge to measurements to stitch and row counts. Plus, learn how to graph out your very own colorwork design!
(NO REFUNDS or STORE CREDIT NO EXCEPTIONS!)